One of the world's most captivating cities, Rio de Janeiro has indisputably beautiful beaches and fantastic nightlife. But after taking in the comely sands of Ipanema, ticking off key attractions like Sugar Loaf and Christ the Redeemer and dancing the night away in Lapa, what else does Rio have to offer?
Quite a lot, as a matter of fact. Rio has such a wealth of historical and natural treasures that you could spend weeks happily occupied without setting foot on the beaches of the Zona Sul. Picturesque islands in the bay
, magnificent tropical gardens and former palaces full of dark secrets – these are just a few of Rio's intriguing, lesser-known places.
1. Escadaria Selarón
Famed for its samba clubs, the neighbourhood of Lapa remains largely unvisited by day. But come in the morning to see Chilean-born artist Jorge Selarón at work on his fantastic, ever-changing creation: mosaic-covered steps made from colourful ceramic tiles that connect Lapa with the hill-top neighbourhood of Santa Teresa. The steps even make a cameo in Snoop Dogg and Pharrell's 'Beautiful' video.
'Escadaria Selarón' by yonolatengo. Creative Commons Attribution licence
2. Sítio Burle Marx
This verdant estate contains over 3000 plant species, including rare species from across the globe, making it a must-see for lovers of all things botanical. The gardens surround the former home and studio of Roberto Burle Marx, Brazil's most famous landscape designer. You'll need to hire a car (or a tour guide with one) as it's located about 50km west of Rio. Call ahead to reserve a visit (+21 2410 1412).
3. Ilha de Paquetá
When you need a quick break from the bustle of Rio, head out to this tranquil island in Guanabara Bay. Its colonial buildings and unpaved pathways invite exploring, and the lack of cars on the island ensures easy breathing – hire a bike or a horse-drawn cart to whisk you around in style. Ferries make the scenic 70-minute journey to the island every two hours or so from Praça XV in downtown Rio (Centro).
4. Theatro Municipal
Rio's grand theatre looks lovelier than ever following a US$30-million renovation completed in 2010. Modelled after the Palais Garnier (home of the Paris Opera), the lavish building dates from 1909 and has a gilded interior replete with oil paintings by Eliseu Visconti, one of the godfathers of art nouveau in Brazil. Come for a guided tour by day, or book tickets to a performance (classical music, opera, ballet) by night in one of Brazil's loveliest performance halls.
'Public transportation on Ilha de Paquetá' by Barbara Eckstein. Creative Commons Attribution licence
5. Parque da Catacumba
On the east side of Lagoa (the big lake above Ipanema and Leblon), this park has a handful of short trails that lead up through rainforest to marvellous views overlooking the mountain-framed lake and southern beaches; other activities on site include rappelling, a zipline and a short canopy walk between treetops. Afterwards, you can walk to one of the nearby lakeside kiosks for a sundowner. (Open-air Palaphita Kitch serves superb cocktails.)
6. Museu da República
Completed in the 1860s, the Palácio do Catete served as the home of the president of Brazil for the first half of the 20th century and today contains a museum of artefacts from the nation's early post-colonial days. The last resident of the palace was the complicated but fascist-leaning President Getúlio Vargas, whose dramatic exit from power came from a self-inflicted gunshot wound. The bedroom where he killed himself is eerily preserved on the 3rd floor, along with the pistol, his pyjamas and a copy of his suicide note.
7. Ilha Fiscal
A fairytale-like palace looms large over this tiny island next to downtown Rio. Built in a neo-Gothic style in the late 19th century, the building originally served as the city's customs house, but is better known for playing host to Brazil's last imperial ball on 9 November 1889. Six days after the celebration Marshal Deodoro da Fonseca deposed Emperor Dom Pedro II, and Brazil became a republic. Guided visits are available three times a day from Thursday to Sunday, departing from the Espaço Cultural da Marinha near Praça XV.
'Chandelier at the Palácio do Catete' by Joana Rangel. Creative Commons Attribution licence
8. Claudio Coutinho Trail
At the base of Pão de Açúcar (Sugar Loaf Mountain), this wide 2km trail skirts along the edge of the mountain with rainforest on one side and the wave-battered rocks on the other side. A favourite of walkers and joggers, the trail also has some wildlife-watching opportunities – keep an eye out for the marmosets commonly spotted here.
9. Igreja de Nossa Senhora da Glória do Outeiro
Rio is packed with stunning colonial churches, a testament to its pivotal status during the early colonial days, when the Portuguese royal family, fleeing Napoleon, set up court here in 1807 and fell in love with the city (even declaring Rio the capital of the United Kingdom of Portugal, Brazil and the Algarves). This baroque beauty, dating from 1739, was a favourite of the Portuguese royals, and has lovely details, including fine azulejos (Portuguese tiles) and an elaborately carved altar. From its majestic perch atop the Glória neighbourhood, the church offers sublime views overlooking Guanabara Bay.
10. Parque Lage
On the north side of Lagoa, Parque Lage is one of Rio's most tranquil corners, with tiny lakes, grottoes and beautifully landscaped gardens. In addition to its lush acreage, the park also has a serene cafe and an art school, with periodic exhibitions inside the mansion of the former 19th-century landowner. From the park, there's a challenging hike along a jungle-clad path up to the open-armed statue of Cristo Redentor (Christ the Redeemer).
'Igreja de Nossa Senhora da Glória do Outeiro' by Jim Killock. Creative Commons Attribution ShareAlike licence
Longing for the beach? For more conventional attractions of the cidade maravilhosa (marvellous city), see our article here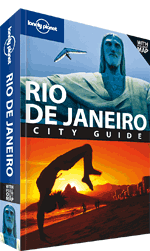 .